Respect Life Dinner – Save The Date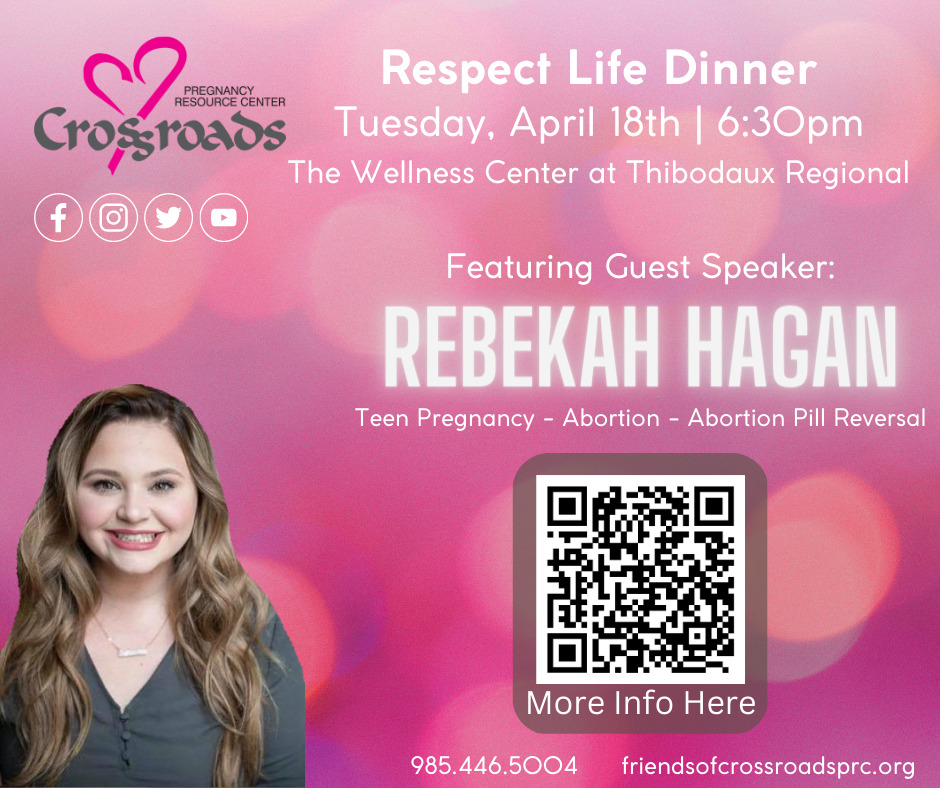 Rebekah Hagan is one of today's youngest speakers on the issues of teenage pregnancy, abortion, and abortion pill reversal.
Raised in a Christian home where abortion was never discussed, Rebekah's life in pro-life ministry was unplanned and fueled, instead, by her firsthand experience. She became pregnant at seventeen with her son, Eli, and again with a second child while in her first year of college. Feeling ashamed and fearing that she would lose her family and be forced to drop out of school, Rebekah thought that raising two children alone would be impossible. At just over seven weeks pregnant, she began a medication abortion that changed her life; however, her story did not end there.
Her story has been shared by local and national media, as well as religious and secular organizations, including Vice News HBO, Focus On The Family, Students For Life, Live Action, Heartbeat International, Epoch Times, and World Magazine. A passionate advocate for grace-centered outreach, Rebekah Hagan uses her story to unravel the mindset of women in unplanned pregnancies, and to equip and encourage others to lead with hope and compassion. Rebekah is a graduate of William Jessup University and a Mission Advancement Officer at Heartbeat International. She and her family reside in Northern California.
Keep up with us on social media for the opening of registration to have dinner and hear Rebekah's story in person!
Join us each Spring for a chance to be…
INSPIRED by a riveting story from a leading Pro-life speaker, which promises to be filled with great wit, insight, enlightenment … and some fun.
EDUCATED about the efforts of Crossroads Pregnancy Resource Center — on a mission to promote the Sanctity of Life by compassionately sharing the Good News of Jesus Christ, offering life affirming options, providing practical, emotional and spiritual assistance to those faced with an unplanned pregnancy.
EQUIPPED and EMPOWERED to make an even greater life-saving impact in our community — what could be more rewarding than knowing that you helped to save the life of a precious baby!
MOTIVATED to support our important work at this crucial time when women and children are at greater risk of abortion due to personal concerns or the uncertainty in our nation; during the event, you'll have opportunities to support the mission of Crossroads Pregnancy Resource Center.
…and you'll experience a joyful evening together with friends, upholding the dignity of HUMAN LIFE!
Join our emailing list HERE for updates about this inspiring event. To help ensure that we can continue to meet the essential needs of our clients, email HERE to find out more information on how you can attend and/or become a Sponsor or Underwriter for this event.